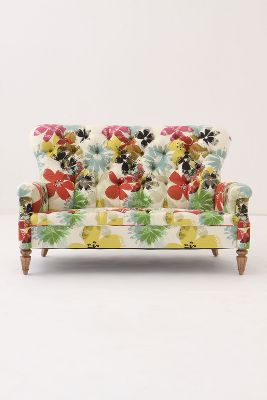 When I make my own ye-ye video where I walk through a series of really cute rooms, this Anthro couch will be in one of them. I actually love the couch we have, primarily because I didn't have to pay for it and it's pretty nice. It's beige and totally neutral, which helps to even out the decor explosion on the walls and everywhere.
from SLO Swap Meet! Best find evar.
We are trying to keep the house clean for at least a week. Anyone who lives in a small space knows that if you leave one thing out, be it a single ball of yarn or a half-finished cup of coffee, soon you will be consumed with an overwhelming filth that threatens to remain forever.
my brother got me this amazing tea set; he is good at presents!
It turns out that when two naturally messy people who love tiny objects fall in love and make a tiny home together, keeping the
stuff
in check is a real job. It seems that cleaning is also involved, which is hard for me as a person who isn't so hot at tidying up after myself. Ask anyone who I've ever lived with, especially my family. I have problems.
I try to make rules for where the tiny stuff goes; restricting it to certain spots in the house. It kind of works. These pics was taken about two years ago; those shelves now have at least 3 times the stuff on them. Oh well!