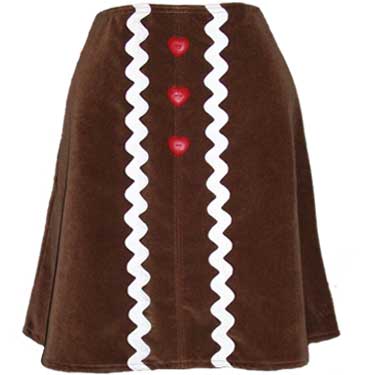 I've been wanting this skirt for many Christmases now. However, there is something wrong with my brain. In my warped mind, it is acceptable to purchase thousands of tiny treats that end up costing a ton in the long run, but I can rarely bring myself to spend over $40 on
anything
(excepting bills, student loan payments, and therapy). It is a pretty dumb system, granted, as it doesn't actually save me any money, but keeps me from actually getting what I want most of the time. Money! Whaddya gonna do?
Anyway, I finally buckled down after being in love with
this gingerbread skirt from Made With Love by Hannah
for ages. (It wasn't even expensive , esp. considering that it's handmade by a magical lady who lives in a gnome house, it's just that I am insane.) It's going to be my costume for the five craft fairs I'm doing this winter! Business tip: I find that customers seem to like a dressed-up vendor, and I always sell more when I wear my cowboy hat. I think that the gingerbread cowgirl combination is going to rock worlds (most of all, my own.) I can't wait!
Another hot holiday tip; Christmas music starts on
KOIT
this Friday. KOIT is the greatest soft-hits channel that has ever existed and their mix of Christmas music is super-traditional and awesome for the purist. It begins!